All Articles Written by K.J. Zeoli Copyrights Apply
All Articles Written by K.J. Zeoli Copyrights Apply
Written by K.J. Zeoli
Over one hundred years ago, Americans fell in love with the gasoline powered internal combustion engine. This new technology of the day replaced the horse and made it possible for the Wright Brothers to take flight, and for automobiles to roll off Henry Ford's assembly lines.It was at this time that Harley Davidson and Indian motorcycles to name a few where starting to use the internal combustion motor to power their production bikes. It wasn't long after that, that Harley and Indian would get their feet wet by experimenting with a new and exciting venture called racing.In 1901 the Hendee Manufacturing Company introduced the 1.75-horsepower, single-cylinder Indian. It was a few years later that Harley-Davidson followed suit in 1903 and as you might expect, racing followed. The earliest racing competitions were held on back roads, dirt roads horse-racing ovals and bicycle velodromes. Almost anywhere there was a piece of flat land racing was eminent. Circa 1909 the back gravel road races paved way for newly constructed wooden tracks which were specifically constructed for car and motorcycle racing.The newly formed tracks constructed from 2 x 4 rough cut lumber boards, became known as motor-dromes or more aptly named murder-domes for obvious reasons. The tracks came in various sizes, a circuit of a mile and a quarter occupied the current site of the Beverly Wilshire Hotel in Beverly Hills. People became enamored with the speed and danger that was collectively produced from the bikes and riders on the motor-domes.The bikes were designed for speed and nothing else, no regard was given for the racers safety, and all that mattered was that the bike went faster than the competitions. The bikes were so stripped down most did not even have transmissions, or brakes and had to be towed or peddled to be started.While traveling into a steep embankment the rider would use a kill switch allowing the motors compression to slow himself down, once he felt comfortable enough to speed up again he would let off the kill switch to restart the motor. The embankments which could reach between 45 and 65 degrees allowed the racers to reach speeds of 100 plus miles per hour.Crashes were common and dreadful, and riders who went down faced being impaled by splinters, which often proved fatal. Small clincher rims and total loss oil systems of the board-tracker bikes caused havoc making the boards slippery and, with narrow tires, well need I say more. Spectators jointly shared in the risk: at many motor-dromes, they peered down from the edge of the track, in harm's way. On one predominantly deadly day in 1912, a number of observers from four to six, accounts vary were killed along with Eddie Hasha and another rider at a motor-drome in Newark, New Jersey, when Hasha lost control of his bike and slammed into the crowd.
​
By 1929, at least 24 board tracks had been built around the country, by 1931, 20 of the 24 had been shut-down or abandoned. From 1932 on there were no more championship-level races run on boards. The tracks were relatively inexpensive to construct compared to more permanent facilities the total facility cost of the 2-mile (3.2 km) Tacoma Speedway was just $100,000 in 1915, compared to the $700,000 spent in 1909 just to pave the 2.5-mile (4.0 km) Indianapolis Motor Speedway
​
Below chart shows board track speedways throughout the US
​
​
​
​
​
​
​
​
​
​
​
​
​
​
​
​
​
​
​
​
​
​
The Start of Board track racing
"It's always better to be on the sidelines wishing you were on the track than on the track wishing you were on the sidelines".
All Articles Written by K.J. Zeoli Copyrights Apply
All Articles Written by K.J. Zeoli Copyrights Apply
Their names are synonymous with board-track racing in the early teens and twenties: Ray Weishaar, Fred Ludlow, Albert "shrimp" Burns Ralph Hepburn, and Gene Walker. They were salt of the earth adolescents from rural parts of the U.S. and their claim to fame was riding the old rickety board-tracks with their huge embankments at speeds of excess of 100 miles per hour. These speed pioneers were among the first extreme athletes and were the start of North America's obsession with speed and racing.
The first board-track was erected by Jack Prince in Los Angeles CA. The sport was an overnight success story and tracks began popping up all over the U.S feeding the crowds insatiable appetite for speed and crashes. The early motor domes were anything but safe during the early years of board-tracking. Many riders were killed while scooting around the steep wooden tracks, whose embankments could reach up to 60°. This was caused by both the intrinsic speed of the powered bicycles of the time and the terrible condition of the warped 2 x 4 boards comprising the track. Shrimp Burns, an extremely popular rider, was killed in 1921 after crashing at a track in Ohio. Ray Weishaar, who rode for Harley-Davidson's famous "Wrecking Crew" team, died in 1924 after dueling with Gene Walker, who rode Indians, during a race in Los Angeles. Walker was killed just two months later on a track in, Pennsylvania.
The carnage on these tracks was so terrible that they earned the name "murderdomes" instead of motor domes. Part of the reason was the amount of crashes and fatalities caused too the riders themselves, but the spectators were also in danger. On September 8, 1912, Eddie Hasha, also known as "The Texas Cyclone" was competing at a motor dome in Newark, New Jersey, short five-mile race against
five other riders, when disaster struck. Hasha began the race leading, but on the third lap the engine
on his bike started to misfire. Hasha dropped one hand from the handlebar, adjusted the engine, and quickly
sped up. Immediately he blasted up the banked track and hit a rail at the top, as well as a number of
spectators looking down onto the track from above. The number of dead varied from 4-6depending on
which source printed the article.
Article by K.J. Zeoli Harley Davidson and the Racing Game
"Riding faster than everyone else only guarantees you'll ride alone"
"The Harley-Davidson Motor Company has often been asked why it did not take part in the racing game. Our answer is: 'We do not believe in it.' And we have reasons for that answer." —H-D cofounder Arthur Davidson
Arthur and Walter Davidson had very different mindsets as to how the company was to be run. This couldn't have been more evident than when it came to the racing scene of the day. Arthur quipped to an early dealer rag, "The Harley-Davidson Motor Company has often been asked why it did not take part in the racing game. Our answer is: 'We do not believe in it.' And we have reasons for that answer." —H-D co-founder Arthur Davidson.
Arthur Davidson had no interest in racing motorcycles or steering his company in that direction. Arthur did everything he could to belittle the fact that Harley was not a player in the major racing circuits of the times. Arthur could not see the advantage of Harley Davidson spending exuberant amounts of money to sponsor racing. He was of the mindset that Harley's factory stock motorcycles of the day were just as speedy as the bikes racing on the circuits. Arthur again quipped in that same Dealer rag; "We can build these freak racing machines, eight valves, auxiliary forks, lightened moving parts, and everything 'skinned' down to racing. But of what benefit would it be to us?"
Luckily for the Harley Davidson Co Walter had other thoughts about racing. Walter could see past the trees for the forest and knew in his heart that sponsoring a racing team would be nothing but good publicity for the factory. Walter put his money where his mouth and mind was and in 1907 Walter Davidson scores a perfect 1,000 points at the 7th Annual Federation of American Motorcyclists Endurance and Reliability Race. Three days after the event, Walter sets the FAM economy record at 188.234 miles per gallon. This was tantamount in spreading the word of Harley-Davidson's extremely tough motorcycles.
Enter 1912- roughly four years after Walter Davidson won his famous Catskills endurance race, a Harley Davidson set a new speed record at the 1912 Bakersfield Road race in California, marking the beginning for many record setting events to come for Harley Davidson. This became a realization two years later in 1916, when Harley Davidson finally opened up their in-house racing department.
Harley's early racing victories can largely be credited to William Harley and engineer William Ottoway. Harley and Ottoway were influential in shaping Harley Davidson's new racing team into a juggernaut so dominant its racers earned the nickname "The Wrecking Crew." For the next two seasons, Harley-Davidson destroyed its two largest competitors, Indian and Excelsior.
In 1921 a Harley Davidson won a race with an average speed of more than 100 mph
for the first time in history. This wasn't the first time and it wouldn't be the last time a
Harley-Davidson set a record, broke through a performance barrier or raised the
bar in racing.

For over 100 years Harley-Davidson has been A leader in motorcycle racing,
particularly the board tracks of the early 20th century .
Harley's dominant racing pedigree started almost from the Companies inception.
The inaugural moment that started this great racing pedigree was in 1908, when
Walter Davidson, president and co-founder of Harley-Davidson, rode a stock
single-cylinder Harley to victory in the Federation of American Motorcyclist
endurance and reliability road race held on the dirt roads in the Catskill Mountains
in New York State. Walter, not only beat all of the other 65 contestants, he did so
with the only contestant to earn a perfect score.
A couple of years later circa 1912, Harley-Davidson added speed to the equation,
setting a new record at the Bakersfield Road Race in California.
In 1914 Harley Davidson showed they were serious about racing by starting a
dedicated department which was solely committed to racing.
Harley-Davidson was one of the first motorcycle manufacturers starting in 1903 their
position was challenged by more than 150 other companies that entered the motorcycle
marketplace by 1911.

Racing, though, would quickly differentiate Harley-Davidson
from the rest of the pack, and the biggest contributors to the legend that was to be where known as the "Wrecking Crew"
Maldwyn Jones, Fred Ludlow, Ralph Hepburn, Jim Davis, Ray Weishaar, Otto Walker, and Walter Higley
Harley Davidson's board track racing timelines
"Most motorcycle problems are caused by the nut that connects the handlebars to the saddle".
"The Wrecking Crew demolishes the competition"
"When in doubt, use full throttle. It may not improve the situation, but it will end the suspense."
A face only a mother could love! Ray Weishaar is seen here with the famous team Harley "hog" mascot on the tank of his bike.
All Articles Written by K.J. Zeoli Copyrights Apply
Indian puts another feather in their headress
"Maintenance is as much art as it is science."
The "Harley Eater"

1921 Indian Board Track Racer
Engine no. 71R956 All Articles Written by K.J. Zeoli Copyrights Apply

During its heyday, this motorcycle was nearly invincible. It was built by Noel McIntyre, and became known as the "Harley Eater" -- due to its string of victories on Southern California race tracks in the 1920s and 1930s.
McIntyre, was an ace wrench, at Urquhart's Indian dealership in San Diego, as well as was a struggling racer himself. McIntyre built and redesigned his own race bike, starting with a short-wheelbase 1921 Scout frame to which he installed a 61ci Power-plus power plant. He modified the "big valve" 1000cc, by using the bigger engine's lower frame cradle and half-girder front fork. The newly improved motorcycle had twice the horsepower of a Scout and weighed just 285 pounds, making it a virtual rocket on two wheels.

With its power, short wheelbase and steep steering head angle, the Harley Eater was a handful even for an expert like McIntyre. A less skilled rider would surely turn the bike into a deadly death trap, killing its next two owners. The bike was then retired for 30 years, sold from one owner to the next and during that process the bike was parted out.
By chance, in 1969 the rolling chassis found its way to the collection of Mr. Harry Sucher, who was also an authority of the history of Harley-Davidson and Indian motorcycle Co's. Mr. Sucher immediately recognized the old Harley Eater despite its missing engine. Mr., Sucher had in his garage a clutch, gearbox and an M-type 61ci Power plus engine, which he used to rebuild the Harley Eater to its former glory.
Sucher had the bike until 1989, when he sold it to another collector. The bike was sold and repurchased again in 2000, where the new owner spent the better part of a year restoring the bike to its current condition.
"The Harley Eater"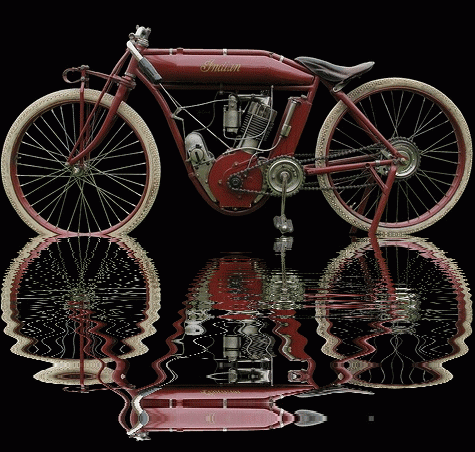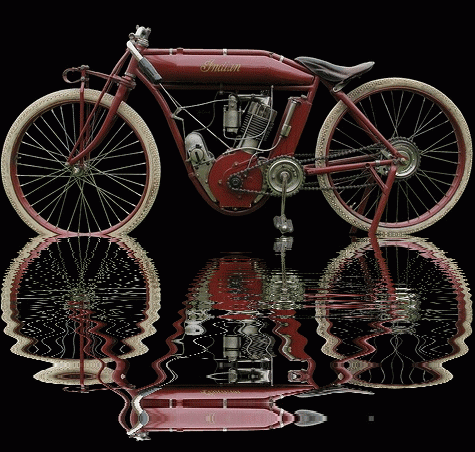 Use the Above Icon to Email us
All Articles Written by K.J. Zeoli Copyrights Apply
All Articles Written by K.J. Zeoli Copyrights Apply